Team
Edan Gorlicki identifies as a dance-activist. As a dancer he has worked with the prestigious dance companies Batsheva Ensemble Dance Company, Inbal Pinto Dance Company, NND/Galilidance and Club Guy & Roni. His works have been awarded numerous prizes including the Dance and Theater prize from the city of Stuttgart and the state of Baden-Württemberg in 2017 & 2019. And a nomination for the Silesian Golden Mask award in 2016.
The philosophy and beliefs of Edan's artistic approach are based on searching the self within its surroundings. Layered, complex and thought provoking, Edan's work always explores social, psychological and emotional realms. Edan is currently working on a trilogy of 3 productions addressing the social effects of individual, collective and cross-generational trauma.
In Addition, Edan contributes to the development of other makers as a coach, mentor, outside-eye and rehearsal director. Since 2017 Edan was appointed the artistic director of the GUMMITWIST nurturing program for choreographers at Theater Felina-Areal in Mannheim.
Eva-Maria Steinel studied theater, film and media studies in Frankfurt am Main. In 2006 she joined the National Theater Mannheim, where she was part of the team of Kevin O'Day and Dominique Dumais for many years. As a dramaturge and cultural manager, she has worked for choreographers and institutions throughout Baden-Württemberg. Her commissions have led her to, among others; Theater der Welt (2014), TanzSzene Baden-Württemberg (2014-2015), zeitraumexit (2016), and EinTanzHaus Mannheim (since 2017). Eva-Maria began her artistic collaboration with Edan Gorlicki in 2015 with the German-Dutch production "The Players".

Ricarda Walter is a freelance performance artist and project organizer. She studied ethnology and philosophy in Heidelberg with a focus on visual and media anthropology and was a research assistant in urban sociology at the TU Kaiserslautern until 2021. Since 2010, she has worked with various artists in different projects, including zeitraumexit, Ruhrtriennale, Catherine Guerin, Jan-Philipp Possmann, Wolfgang Sautermeister and Beata Anna Schmutz. She is currently working with Armin Chodzinksi and is a regular in the productions of the Mannheimer Stadtensemble of the NTM and at Theater Performance Kunst RAMPIG. She can also be found in the "Cool Pool (AT)" in Mannheim's Neckarstadt and since January 2022 "on tour" with the current productions of Edan Gorlicki.
Photo: (c) Alex Ehhalt
Sarah Thöle studied media art, scenography, art studies and philosophy at the University of Design Karlsruhe. She co-founded the research initiative Mobile Interface Radio and realised the radio app Mutations from 2010-2013. In 2013, she curated the exhibition ZollArt as part of the Alternativen Frühlings Heidelberg.
Sarah lived in Mexico until 2019 where she produced experimental audio collages for the radio program Dokublog of SWR 2. From 2014-2017 she worked at the Theater und Orchester Heidelberg as a production manager for "Born with the USA", the Heidelberg Castle Festival and the Ibero-American Theater Festival "Adelante".
In 2019 she returned to Heidelberg, working at Halle 02 and engaging in the independent performing arts scene as a production manager. Since September 2020 she publishes the monthly podcast "Ist das Kultur, oder kann das weg". Since 2021 she is part of the INTER-ACTIONS team as a project manager and fundraiser.
Janin Friese studied Media and Cultural Studies at Heinrich Heine University in Düsseldorf and subsequently completed a Master's degree in Arts and Media Administration at Freie Universität Berlin. From 2011 to 2013, she was operations manager of the Computerspielemuseum in Berlin. From May 2013, she was responsible as production manager for the TANZBIENNALE HEIDELBERG, which was held for the first time in 2014. In March 2014, she took over the company management for the Dance Company Nanine Linning/Theater Heidelberg. Since 2015 she has been working at the Karlsruhe Institute of Technology as an assistant in research funding. She supports the choreographer Edan Gorlicki as production manager since September 2019.
Jael Krämer studied literature with a focus on intercultural communication and ethnology at the Ruprecht-Karls-University in Heidelberg. After various internships in the cultural sector, her path led her to the Karlsruhe University of Education, where she is currently studying cultural mediation. Her practical experience includes the brainstorming and text design of editorial articles and social media content. Since February 2022, she is part of INTER-ACTIONS as Public Relations & Community Manager.
Current Artistic Collaborators
Ingo Jooß has been working as a freelance lighting designer since 2010. In collaboration with the Israeli choreographer Itzik Galili, he created lighting designs for the Lithuanian National Opera and Ballet as well as for the Theaterhaus Stuttgart. With the Dutch choreographer Nanine Linning he worked on projects for the Staatstheater Stuttgart/the Stuttgart Ballet, the Thuringian State Ballet as well as for the Theater Heidelberg. Furthermore, he created lighting designs for the Festspielhaus Baden-Baden, the Stadttheater Pforzheim, the Wilhelma Theater Stuttgart, the Friedrichsbau Varieté Stuttgart as well as for the Hope Theater Nairobi. In addition, Ingo Jooß works as a lighting designer for various independent groups in the dance and theater scene in Stuttgart and in the Heidelberg/Mannheim area. "RE-COVER" is already his sixth collaboration with Edan Gorlicki.
Photo: (c) Alex Ehhalt
Naomi Kean was born in 1994 in Aachen, Germany. From an early age she felt a deep connection to theater and crafts. From 2014 to 2018 she studied costume and set design at the Toneelacademie Maastricht. For almost four years she worked as costume assistant at the Theater und Orchester Heidelberg and since the end of 2021 is a freelance costume and stage designer. For the production Molecular Scars Naomi Kean works for the first time with Edan Gorlicki.
Mareike Villnow was born in Frankfurt in 1999 and grew up in Ober Wöllstadt near Frankfurt. Even as a child, she was very interested in movement and music. She attended children's dance, gymnastics, acrobatics and saxophone classes and eventually found her passion for dance that way. Although she started ballet as a child, she later fell in love with urban styles. This gave her the opportunity to let go of fixed forms and structures and express herself freely. At the age of 17, she helped out in some dance schools and started giving regular classes as a hip hop instructor. From 2019 to 2022, she trained in Mannheim as a dancer, choreographer and dance teacher at a vocational college for contemporary dance. In the study she experimented and combined the styles she knew with contemporary dance and thus created for herself completely new movement possibilities. At the same time she worked as a freelance dancer/performer on projects outside of her studies, among others for companies like "Continental", "Ubisoft" and "R+V Versicherung", but also in the "Theater Felina Areal" and the Mannheim "Kulturtragfläche e.v.".
After graduating, she decided to broaden her experience by participating in the 8-month contemporary program "Art Factory International" in Italy. Here she came in contact with repertoire of different companies & choreographers such as William Forsythe, Ultima Vez and Crystal Pite. During the program she completed a certificate in "Corpo Poetico", which focuses on artistic collaboration with people with disabilities.
Alexander Angel Niederdorf, better known as LXDario, was born in Puerto Plata, a city in the Dominican Republic. At the age of 7 he came to Germany and grew up here, but always with a connection to his native land.
His first passion, dancing, was practically born in his cradle, because in the Dominican Republic you grow up with music and dance. Exactly these two passions should also shape him in his youth. He attended various dance schools and workshops and was able to gain his first experience on stage in the dance piece "the one-way street" and later he also took on a leading role in the dance piece "the journey through time". He was also part of two different dance formations, with which he participated in various competitions and celebrated some successes together with the group.
His interest in DJing came from several club visits and led him to attend the Vibra DJ School to learn how to DJ. His musical journey led him to a residency at a party series in Mannheim as well as gigs at various clubs in the region such as the former "Loft Club" in Ludwigshafen, the "Disco Zwei" and the club "dasZimmer" in Mannheim. In addition to his artistic activities, Alexander is also engaged in volunteer work. He is actively involved in the Queer Center Mannheim, where he helps organize the event "Queerlactica "as part of the event team. He has also started his own project, the "Queer Dominican Night", where he combines his cultural identity and his commitment to the community.
Alfonso Fernández Sánchez was born in Cornellà de Llobregat and received his training at the Institut del Teatre in Barcelona. His first engagement took him to the junior company IT Dansa in Barcelona under the direction of Catherine Allard. In the 2014/2015 season he joined the Munich Staatstheater am Gärtnerplatz as a soloist, where he danced under Karl Alfred Schreiner. He currently works as a freelance dancer and develops his own choreographies. His collaboration with Edan Gorlicki began with the project "WHAT DO WE DO" in 2019.
Charlotte Petersen was born in Germany in 1991 and studied Modern Theater Dance in Codarts/Rotterdam and at the Amsterdamse Hogeschool voor de Kunsten. After her internship with the company of the Staatstheater Mainz, she started working on a project basis in 2015. Since then she has worked mainly in Belgium, Germany, Austria and Denmark and has been touring internationally since 2018 with the production "The Sea Within" by Belgian choreographer Lisbeth Gruwez/Voetvolk. She regularly collaborates with director Barish Karademir on his physical theater productions for Tafelhalle Nuremberg and Staatstheater Darmstadt, and in 2020 developed the performance concert VIBRANT MATTER with Sophia Mage. Charlotte is a founding member of the Münster-based MNEME kollektiv and began working with Edan Gorlicki in 2019 with the production IMPACT.
Fran Martinez is originally from Onil, Spain. He studied in Alicante and Valencia. Once his studies were finished, he joined GoOD by Asun Noales and shortly after he worked with Proyecto Titoyaya under the direction of Gustavo Ramirez in Spain. At the age of 20, he went to Germany to work with Wee dance company, in Gerhart Hauptmann Theater, with the choreographers Dan Pelleg and Marko E. Weigert. He returned later to Spain and joined the company Marcat Dance by Mario Bermudez for two years. In the meantime, he also worked with Arnau Pérez. After this enriching period, he returned to Germany to work at Gerthart-Hauptmann Theater, Görlitz. Currently he is a freelance dancer. Lost Bodies – Urban Encounters is his first project with Edan Gorlicki.
(c) Alexander Ehhalt
Brigitta Schirdewahn was born in 1944 and trained as a dancer with Wigman student Erika Lindner, among others. Theater engagements introduced her to a wide variety of municipal theaters, including theaters in Dortmund, Kassel, Nuremberg Frankfurt and St. Gallen. Later she began teaching, gave acting training and developed her own choreographies. She never lost sight of the stage itself – and was always open to new challenges. Brigitta Schirdewahn has been working as a performer for seven years and can be seen in productions by Sebstian Blasius, Ullrich Meckler, Antje Velsinger as well as Claudia Bosse, among others.
Photo: (c) Alexander Ehhalt
Tobias Kelle, born 2012 in Heidelberg, Germany, is the
youngest dancer in the production MOLECULAR SCARS. His talent was discovered in 2017 by the choreographer and owner of the Ballettwerkstatt Heidelberg, Wiebke Hoffmann.
In the annual performances "Meereswelten" and "Lampenfieber", as well as the choreography to Vivaldi's Four Seasons, Tobias had already the opportunity to gain some stage experience. For the production MOLECULAR SCARS he collaborates for the first time with Edan Gorlicki.
Photo: (c) Alexander Ehhalt
The Brazilian Evandro Pedroni lives and works as a performer and choreographer in Vienna. His work has been presented at Brut (AT), EinTanzHaus (DE), Theater HochX and Live Art (DE), as well as at festivals such as Imagetanz (AT), FAKI 18 (HR) and at PAD – Performance Art Depot (DE). On stage he has performed in productions by Martin Nachbar, Oleg Soulimenko, Hubert Lepka, Stella Zannou, SETanzTheater, Akemi Takeya, Elisabeth Tambwe, Cie. Willi Dorner and La_Trottier Dance Collective, among others. In addition, he develops his own artistic works and is engaged by other artists* as performer, choreographer, outside eye and costume developer. Since 2014 he has been working with Edan Gorlicki as a dancer and outside eye. Evandro has also designed the costumes for several of Edan's productions.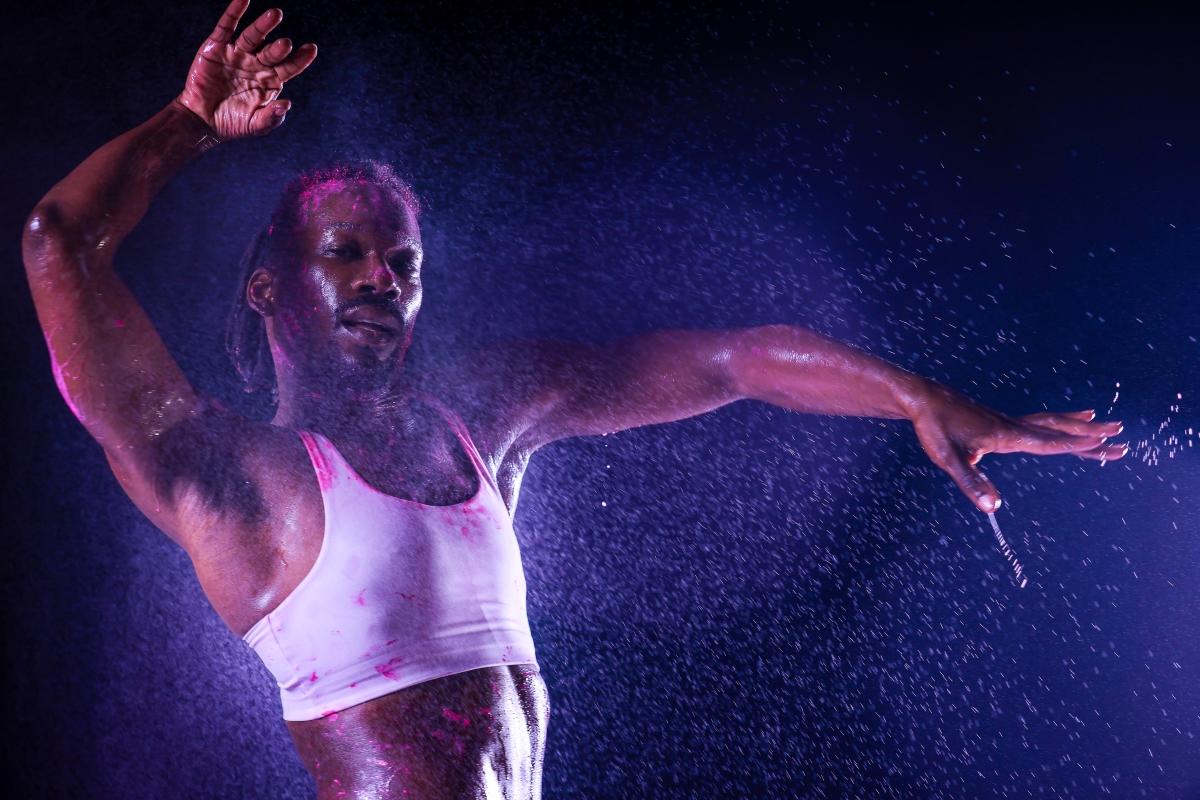 Kyle Patrick began professionalizing his passion for dance in his Caribbean home of Sint Maarten at Motiance Dance School in 2004. In 2007, he was accepted at the Fontys Dance Academy in Tilburg. He finally earned his bachelor's degree at Codarts Dance Academy in Rotterdam in 2011. His path had crossed with that of Nanine Linning a year earlier, in the form of an internship with her then newly formed company at Theater Osnabrück. In 2012, Kyle moved on to the company's new city, Heidelberg. While he remains closely associated with the company, he began freelancing in 2016 and has since made his home in Berlin. To date, Kyle's collaboration with Linning has expanded to the role of production assistant – for commissions from Stadttheater Bielefeld ANIMA OBSCURA & Bayerisches StaatsBallett DUO. And most recently for the workshop weeks of the Boswil Academy for New Music "PerForm".
(c) DeDa Productions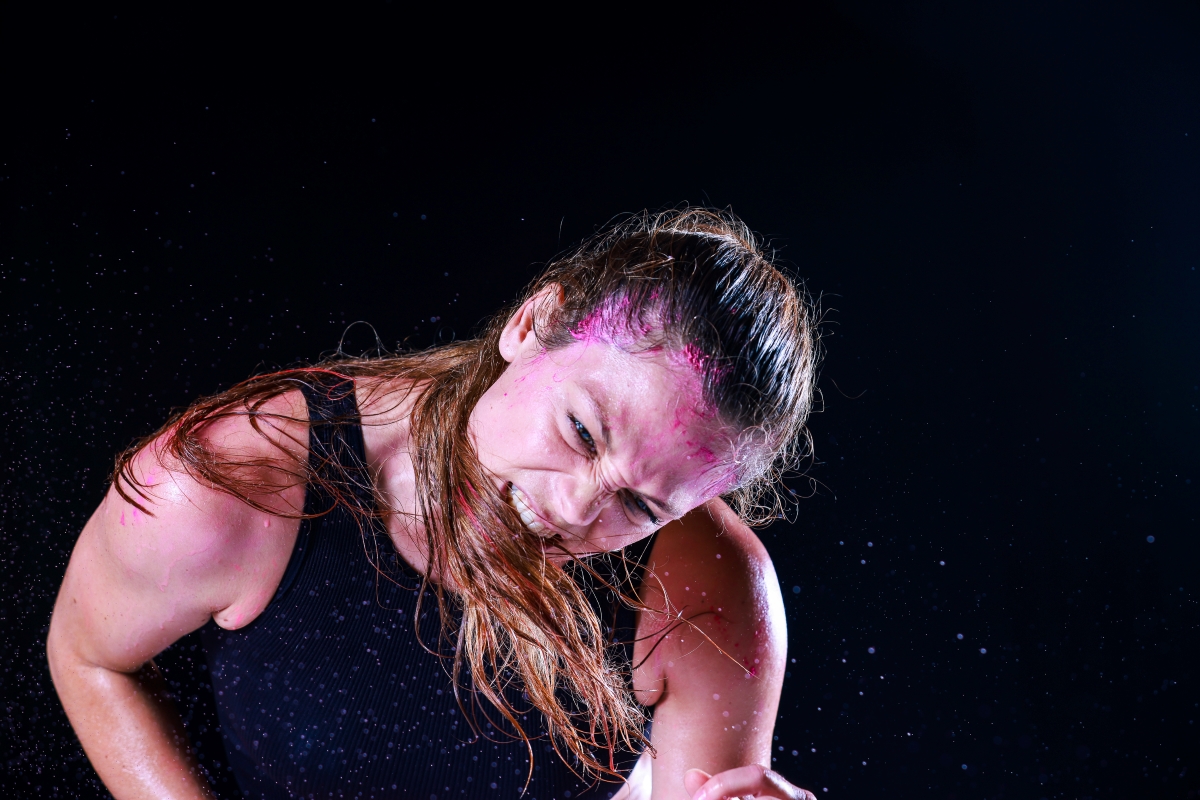 Cecilia Ponteprimo is a freelance dancer, choreographer, dance and yoga teacher. She was born in Turin (IT) in 1994 and studied at the Amsterdamse Hogeschool voor de Kunsten (AHK), where she graduated in 2017 and danced in pieces by Igor&Moreno, Loic Perela, Liat Waysbort & Grainne Delaney, Cecilia Moisio, Nadia Bekker, Lester Arias Vicuña, Heidi Veirthaler and Giulio D'Anna.
She was a member of the Dutch company "DE STILTE" for two years (2016-2018) and then started her freelance career in Germany. Her base is the Rhine-Neckar region from where she works in different cities with Maura Morales, Paolo Fossa, Minka Marie Heiss, Martina la Bonté, Fabian Cohn, Domenico Strazzeri, Amelia Eisen, Jonas Frey, Miriam Markl, Julie Pécard, Lorenzo Ponteprimo and Darja Reznikova, among others, while also developing and showing her own dance pieces. In 2021 she participated in the foundation of FLUX e.V. to strengthen the visibility of the independent dance scene in the Rhine-Neckar region. In 2022 she participated in ATALANTAS, a dance project between Montpellier (FR) and Mannheim (DE), produced by Compagnie Didier Théron and EinTanzHaus in Mannheim.
(c) DeDa Productions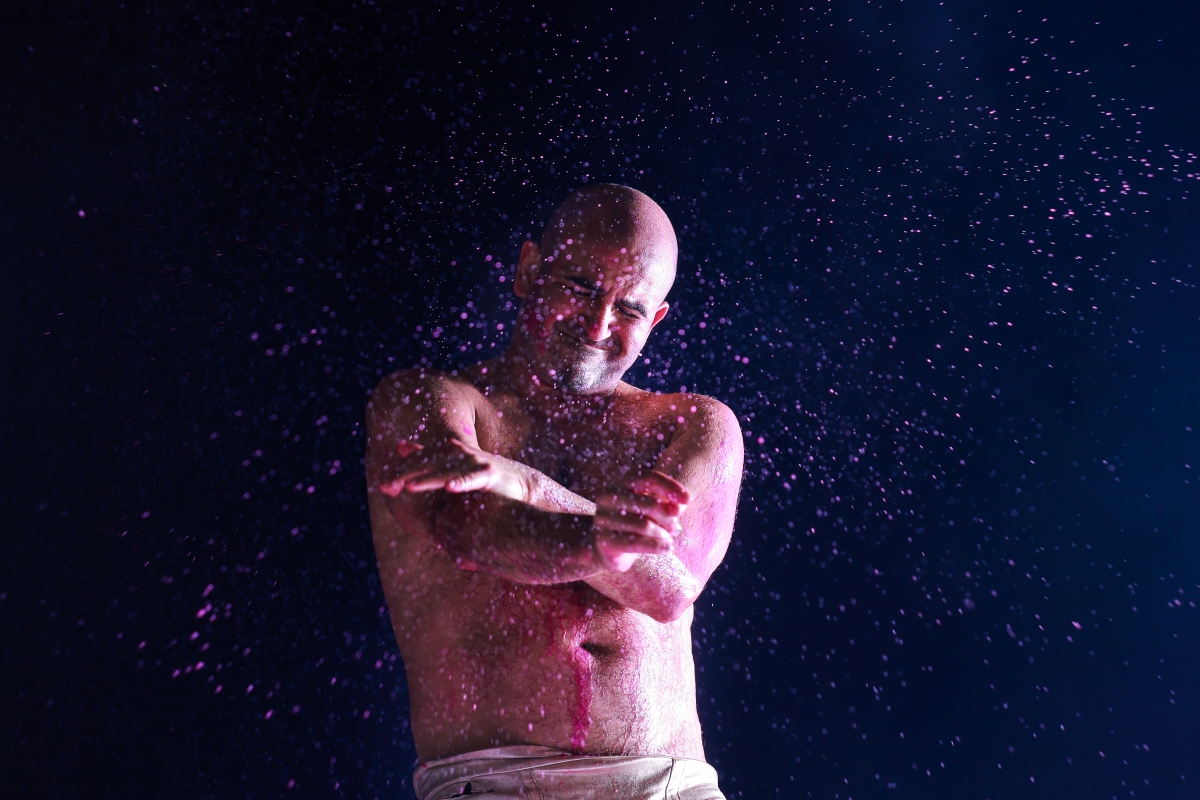 Leonardo Rodrigues is a dance artist from Salvador, Brazil and lives in Germany. He has worked for numerous theaters and dance companies in Europe, including as a performer for the Staatstheater Nürnberg, l'Opéra Comique in Paris, Grand Théâtre de Genève, Staatstheater Berlin, Staatstheater Darmstadt, Steptext Projects in Bremen. Most recently, Leonardo worked as a rehearsal director for the Tanztheater Heidelberg together with artistic director Iván Pérez.
Currently Leonardo works as choreographic assistant and outside eye for the company CocoonDance in Bonn and Monthey, Switzerland. In the field of dance education, Leonardo is an alumni of the Frankfurt University of Music and Performing Arts, where he completed his Master of Arts. Together with Inter-Actions and Migration Hub Heidelberg, he developed a project focused on storytelling of marginalized groups as part of #CreatorsForDiversity. Currently, Leonardo is working on developing dance classes as a performative practice that uses strategies to develop the imagination and strengthen the sensory perception of individuals.
(c) DeDa Productions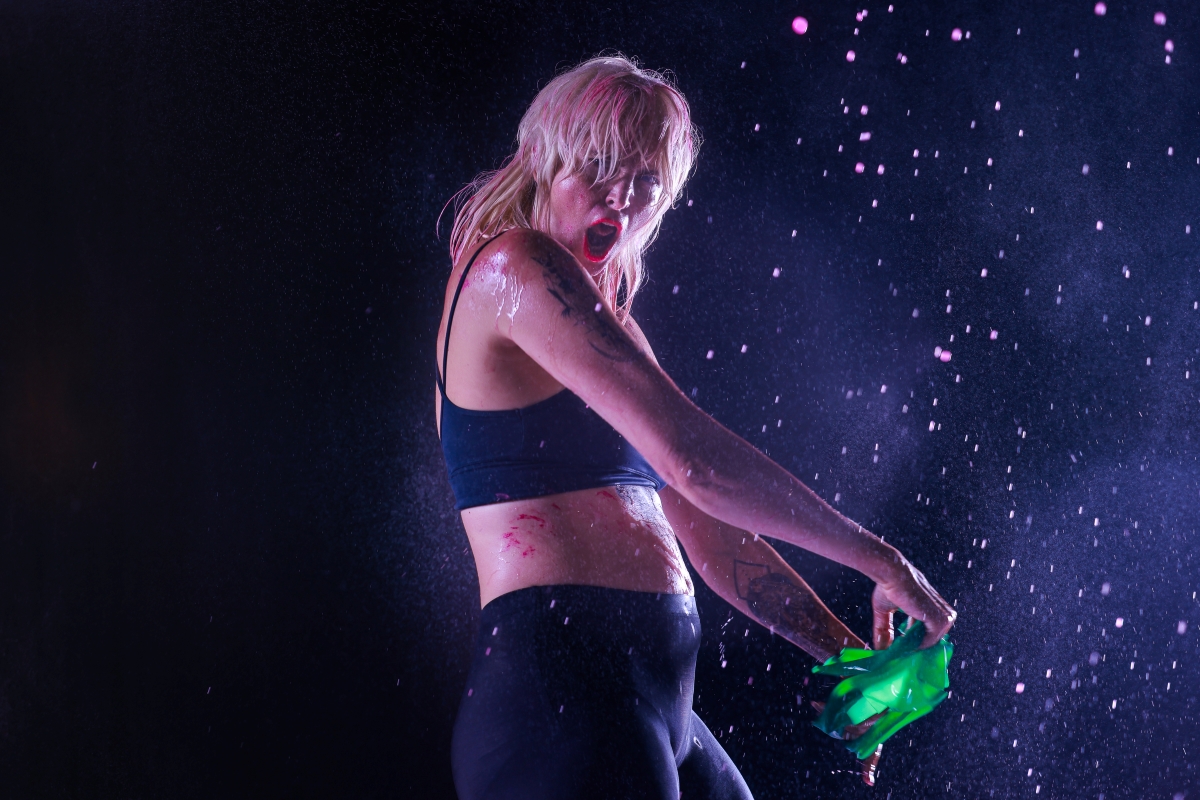 Lauren Rae Mace is a dance and performance artist as well as a choreographer and dramaturge for dance (theater).
From 2013 to 2021 she was engaged at the Staatstheater Kassel and was a dancer, rehearsal and training director and finally dance theater dramaturge and manager for the dance theater under Johannes Wieland. She also worked with guest choreographers* including Helder Seabra, Tom Weinberger, Maxine Doyle and Chris Haring.
In 2022 she received a grant from the NATIONAL PERFORMANCE NETWORK for the conception of, "THE FLAT EARTH" – an immersive dance prototype premiered in August 2022 during documenta fifteen.
Photo: DeDa Productions
Harrison McClary made his debut in the dance and theater world as a composer for Edan Gorlicki's work IMPACT in 2020. Since then he has continued this collaboration with the slightly different follow-up project RE-COVER.
Here Harrison saw himself in the role of curator, creating the soundtrack for and with each performer. The result sounds more like a collage than a compositional work: home-made voice and text recordings by the dancers, delicate guitar strumming, cinematic ambient and a bit of techno, not to mention brief excursions into the '80s and silence.
Amy Josh was born in England and grew up in Vancouver, Canada. She trained at the Arts Umbrella Dance School in Vancouver and graduated in 2011. Engagements have taken her to Noord Nederland Dans, Club Guy & Roni and tanzmainz, among others. During her four years with the dance company of the Staatstheater Mainz, she worked with choreographers such as Sharon Eyal, Guy & Roni, Rui Horta, Koen Augustijnen & Rosalba Torres Guerrero, Guy Nader and Maria Campos, Eleonore Valère-Lachky, Garry Stewart, Jose Navas, Jo Stromgren and Guiseppe Spota. As a freelance dancer, Amy Josh has worked with Jill Crovisier (Luxembourg), Dunja Jocic (NL), John Wannehag (SE), and Edan Gorlicki among others. She met Edan Gorlicki in 2011 and their first collaboration followed in 2013 in the piece "Motiv(n)ation" created for Club Guy & Roni. Amy returned to work with Edan since 2019 on the production IMPACT.
TingAn Ying was born in Taiwan in 1989 and completed her training at the Taipei National University of the Arts. She is based in Berlin since 2015 and started collaborating with Edan Gorlicki in 2016. She also worked with Anouk van Dijk, Falk Richter, Emanuel Gat, Club Guy and Roni among other well-acclaimed artists across Europe. Beside her dance career, TingAn is as well active in the field of cultural study. She's recently started developing her newest writing project, Ventriloquism: let me speak your language. The project is supported by Neu Start Kultur/Dachverband Tanz Deutschland, focusing on decolonisation and post-colonial discourse under the format of journalism. A series of articles of the project is scheduled to be published on the pioneer platform of digital journalism, MEDIUM. Her collaboration with Edan Gorlicki began in 2016 with VORTEX and continued in 2019 with WHAT DO WE DO.
Lorenzo Ponteprimo was born in 1992 in Torino (IT). In 2015 he graduated from Codarts, Rotterdam Dance Academy. In 2014 he worked as an intern with Regina van Berkel and Conny Janssen Dans company. From 2015 till 2017 he worked for the Heidelberg Stadt Theater under the artistic leadership of Nanine Linning. From September 2017 he is a freelance movement artist. He worked with: Riccardo Fernando, Paolo Fossa, Minka Marie Heis, Domenico Strazzeri, Martina La Bontè, Agnieszka Jachym and Edan Gorlicki. In 2019 He participated in the "Gummitwist" nurturing program for young choreographers at Theater Felina-Areal, Mannheim and continues to develop his own choreographic voice.
As a movement coach he worked with the acting department of the Heidelberg Theater, diverse high Schools, dance schools, young groups and amateurs. Lorenzo started his collaboration with Edan Gorlicki in 2018 with the production SEXLESS BABE.
Elvan Tekin is a Berlin based translator and dance artist from Turkey. As a dancer she worked among others with Eyal Dadon (ORPHEUS, Thalia Theater Hamburg), José Vidal (EMERGENZ, Kampnagel Hamburg; EMERGER, NAVE Santiago de Chile). In her artistic work she focuses on socio-political dimensions of the individual body as a form of resistance, implementing and experimenting with translation theories as a tool for creation. Lost Bodies – Urban Encounters is her first collaboration with Edan Gorlicki.
(c) Alexander Ehhalt
Catherine Guerin, born in New York in 1957, has been involved in various types of movement work throughout her life. She has international experience as a dancer and dance teacher as well as a professional choreographer. From 1990-1994 she was a member of the Heidelberg City Theater. From 1995-2010 she worked mainly in Austria as a member of Tanztheater Wien and at the Vienna Volksoper, and as in-house choreographer at Tanz Graz. Currently she is active as a movement pedagogue, choreographer and performance artist. Since 2008 she is an accredited lecturer of the Feldenkrais Method® and teaches contemporary dance technique and improvisation, among others at the Theaterwerkstatt Heidelberg as well as the Theater Akademie Mannheim.
Born in Spain in 1990, Eli Cohen is a Berlin-based freelance dancer and performer. In 2013 she moved to Berlin and works with various choreographers and directors. In the past years she was part of the production "24 Images per second" by the Swiss director Boris Nikitin, co-produced by Kaserne Basel, Gessnerallee and Wiener Festwochen. In the same year she performed in "Bibliomaniacs", by Belgium-based choreographer Lisi Estaras, co-produced by Dorky Park Berlin. In 2021 Eli took part in the new creation "Orthopedica corporatio" by Marina Mascarell co-produced by Mercat de les Flors, as well as in "safe&sound", a new production by Berlin-based choreographer Lee Méir, produced by Hebbel am Ufer. In the same year she also joined Sidi Larbi Cherkaoui's Eastman to dance in "Faun" part of 4D+. In 2022 Eli took part in the creation "Drang" by Berlin based choreographer Sergiu Matis in Radialsystem. Besides that Eli also joined Inter-Actions – The Dance Company in 2022 and performs in the productions IMPACT and MOLECULAR SCARS.